Combine the power of multiple IPLS development teams and IPLS consultants in an IPLS development train
Many development projects can be handled by one dedicated IPLS customer centric development team. However, there are development projects that cannot be handled with only one IPLS development team because of e.g. sharp deadlines or the complexity level of the project.
To handle more complex development projects or projects with very sharp deadlines (or a combination of complexity and sharp deadlines), IPLS uses the so-called IPLS development train based on SAFe. The IPLS development train brings multiple IPLS teams, IPLS consultants and the customer together in a central dispatching, a locomotive and multiple wagons.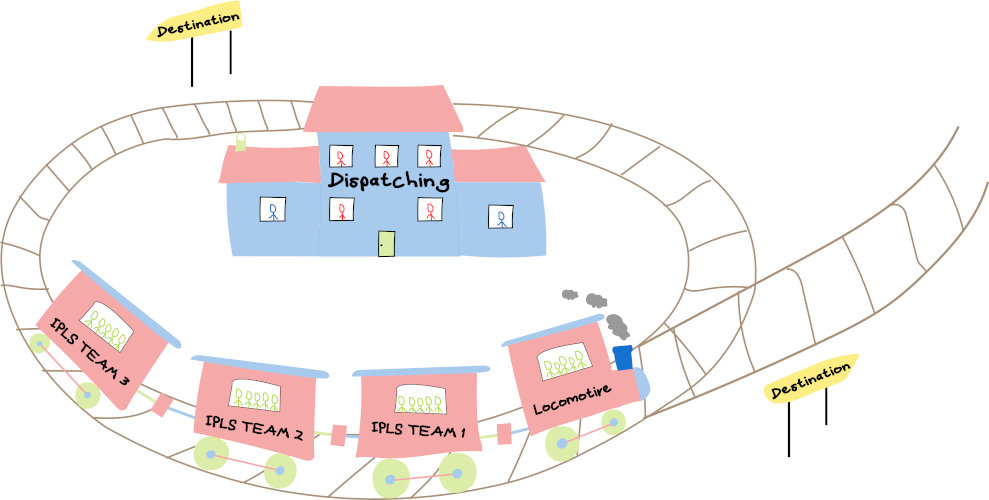 The central dispatching
In the central dispatching you find the dispatching-team. This teams determines the direction, the planning, the load and the final destination of the train. This team also decides on the composition of the train. If necessary, for example, this team will decide to attach an extra wagon (IPLS team) to give the train more capacity or to change the load or the planning of the train. The dispatching team is in close contact with the locomotive and receives daily updates about the progress of the train.
The locomotive
In the locomotive there is the locomotive-team. This team leads the train and has to make sure that the instructions of the dispatching are followed carefully in order to get the train to its destination on time and with the defined load. The locomotive team interacts and coordinates the different train wagons and makes sure they maintain the right speed and direction to avoid the train loses load, gets delayed, blocked or deviated.
The wagons
Typically, a train wagon contains a full IPLS development team consisting out of 4 developers and 1 test engineer/business analyst. However, a wagon can also contain IPLS consultants that support the development train for a specific topic. Each wagon works on the assigned user stories, in close consultation and cooperation with the locomotive and the other wagons.
---
Visit the IPLS wiki for more info about IPLS related topics
---